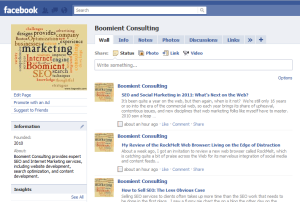 I'm always looking for new ways to integrate my site and my links with Facebook, especially now that Facebook is larger than most of the countries in the world.  While they've done incredibly well in terms of popularity and usage, Facebook has not even scratched the surface of what they may accomplish one day in terms of brand engagement, so anything that can solidify your presence on this site should be at the top of your business to do list.
At the moment, getting attention on Facebook is mostly about collecting friends, fans, and "likes", and getting content and messages in front of people on a regular basis, so that you become an accepted part of their community.  There are dozens of engagement methods that the site offers which are often overlooked, and any number of these can be used in combination to create a platform for your business within Facebook.
If you've got a Business Page (sometimes called a Fan page), you may have found it difficult or time-consuming to populate it with fresh content. However, with a few clicks you can easily set up your business page to import an existing blog and automatically update it with posts from another source.
Types of Facebook Pages
First, let's get straight on the different type of pages that you're allowed to create on Facebook, other than the personal profile page that everybody has. There's been some confusion surrounding Facebook page types, because the company has messed around with the categorization and names, and the way people can interact with these pages.
They've recently simplified things by making it so that when you "like" a page, it gets added to your profile, enabling page updates to you in your Newsfeed.  This goes for business pages as well as entertainment and other stuff.
If you start a page, you're allowed to manage it, and set options for others to post on it, creating a community platform around a given topic.  At the moment there are six types of pages that a user can create to represent an organization, brand, or personal interest:
Local Business or Place of Interest
Company, Organization, or Institution
Brand or Product
Artist, Band, or Public Figure
Entertainment
Cause or Topic

Importing a Blog to Your Facebook Business Page
The technique I'm about to go through applies to pages for businesses, which tend to be in one of the first three categories. To be able to import a blog, you must have editing permission on the page, and the page must have a "Notes" tab, found along the top next to the Wall.
Steps to Import Blog to Facebook:
From the "Account Settings" tab on your FB profile, go to "Manage Pages" and select your Page.
Goto "Notes" tab
On the left side you should see an RSS symbol to subscribe to this Notes page, and below that, "Edit Import Settings".  Click the "settings" option.  If you don't see this option, create a "test note" as a draft, and it should appear.
Enter the RSS URL for your own blog, or one you have permission to import.  If you haven't yet setup an RSS feed for your blog, use Feedburner to do so.  You will give them your blog url and they will give you a "feed URL", which you can use throughout the web any time there is an opportunity to add your feed, allowing people to subscribe to your blog via RSS.
Enter the feed URL in the FB Notes options and hit "Start Importing".
Check your Page main Wall.  Your most recent posts should appear as Facebook Page posts.
From this point on, every time you have a new post on your blog, the RSS feed will feed it through to this page as new content and post it automatically, making it available and promoting it through the Facebook Newsfeed of anyone who "liked" your page.  It's a great way to add exposure to your blog (which you might also share on your main personal profile page).
This saves a lot of time, but you may also notice that these auto-posts do not include a main image from the blog post, as they would if you manually "shared" the page on the Wall.  You may prefer posting one at a time to get a better-looking post with more obvious links back to the original page.
Either way, having your blog content on your Facebook business page is a good idea, extending the presence of your business and encouraging more sharing from your fans and friends.
Check out my Business page for Boomient here to see how the RSS works in practice.