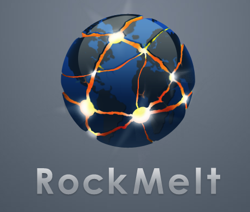 About a week ago, I got an invitation to review a new web browser called RockMelt, which is catching quite a bit of praise across the Web for its marvelous integration of social media and content feeds.
Despite my loving attachment to Google Chrome, I decided to give RockMelt the chance to woo me with its considerable charms.  This is my one-week review of RockMelt… what's good about it, and what's still lacking.
I'll start with the bottom line, delivered at the top:  I'm keeping RockMelt as my default browser, and if you are someone who engages in social media a lot, you should give it a whirl also.  It's not quite where it should be, but it has already profoundly changed the way I browse, search, chat, and generally use the web.
What is RockMelt?
RockMelt was created on the open-source browser-building platform known as Chromium, which is the same platform used with Google Chrome.  For current Chrome users, transitioning to RockMelt will feel familiar, since most of the features are in found in the same place.
The quick setup allows you to import bookmarks from your current browser, as well as saved usernames and passwords from sites you've already visited.  This is something I definitely appreciate, having been through previous browser-switching that took weeks of re-inputting passwords to feel completely "moved-in".
The appeal of RockMelt is that it re-imagines web browsing for those of us willing to admit that we're addicted to social media such as Facebook, Twitter, and the like.  Your screen will now have "edges"… one on the left for social media and one on the right for content feeds and applications.  The genius of RockMelt is that it eliminates the need to "check in" on your social media accounts by visiting them directly, and allows for a high level of instant engagement with your network.
If you want the RockMelt "edges" showing, they're always on, constantly updating to let you know which of your friends are online, whether they've posted anything new, and whether any blogs or sites you are tracking have added new posts. RockMelt does this in an nicely unobtrusive way, fully enabling the distractions while also minimizing their tendency to pull your attention too far away.  Let's face it, most of us like being distracted by the web… and if you don't, this browser is definitely not for you.
Best Features of the RockMelt Browser
The Left Edge:  The "Facebook" sidebar is a thin vertical strip showing a little photo for each of my friends from Facebook, with a green light indicating who is online.  If I prefer I can "star" the friends I'm most interested in keeping tabs on, and limit the strip to showing only these friends, in any order I choose.  A simple hover of the mouse onto this edge reveals any new status updates or postings any of these folks have added, which I can read there, or click to continue the experience on Facebook.com.
It's a fantastic way to make sure you don't miss any updates from the folks you stalk follow the most.  You can even post to friends' Walls right from this edge without going to FB itself.  Nice!
Chat Window:  RockMelt allows you to pop right into a chat from the left edge, so your conversation can happen from there, or at FB.com, or both.  This allows you to keep doing whatever you're doing on any other webpage, and maintain an ongoing chat on a very pretty, word-bubbly interface.  Better still, a simple drop-down arrow on the chat window shares the webpage you are on with your friend with one click.
The Right Edge:  The right-hand sidebar allows the user to subscribe to content updates from any site on the web, and will default to setting up your Facebook newsfeed as the first stream. I have always struggled with the challenge of keeping up-to-date on my RSS-subscribed content, which requires the interruption of switching to a reader or other delivery source to see what's been collected. With RockMelt, whatever is new is noted right there on the side of the screen, with a little number indicating how many new feeds exist since the last time I checked.
Clicking on a site icon from this right-hand edge lets you preview the new items without leaving the current page your browser is on.  This tends to encourage more frequent feed-peeping (yes I just coined a term), since the action doesn't require the commitment of navigating to a new webpage.  This edge has already increased my use of Twitter ten-fold (I don't claim that's a good thing, only that's it's happening, but that's a topic for a different post).
Google Search Integration:  RockMelt integrates with Google so well that one need not ever visit Google.com again, nor choose a new browser tab to view a Search Engine Result Page (SERP).  Of course you can if you want to… typing a query into the top-left bar will perform a Google search and take you to the results on Google.com, and this space doubles as the navigation bar for inputting a URL (a feature pioneered by Chrome).
But RockMelt offers a second search window on the top right, displaying the SERP as a 1/3 column on top of your existing browser tab.  This is a tremendous boon for habitual web searchers, who often want to perform a quick search without breaking their rhythm of reading.
So when you're reading that article about Lady Gaga, and need a quick Wikipedia check to see where she grew up, you can conduct this important research without abandoning the original story.  I actually love this feature… although it seems cosmetic at first (and possibly redundant since there are really two search bars in the browser), in practice it makes searching faster and better.
The potential of fully integrating search into the browsing experience is profound.  It's an evolutionary step to bring "search" closer to what it should be… an instinctual mental reflex, performed more with our brains than our hands, fully integrated into the increasingly normal human activity of consuming massive amounts of on-demand information.
Until Google learns how to read my brain activity and deliver Google Instant results by comparing what's in my curiosity to what's in their index, this is the next best thing.
Worst Features of RockMelt
I'll be somewhat forgiving here, as one should for any software that is still in beta, but among the feedback I'll be providing to the RockMelt team is the following:
Search Box Clearing:  I don't like that after you perform a search on the search bar, it leaves the query typed in there long after you've closed the search window or moved elsewhere.  This should be fixed so that what you typed goes away after you leave the query box, for privacy reasons.
Bad Plugins/Extenstions Integration:  As a professional SEO consultant, I have both Firefox and Chrome terribly tricked-out with plugins and toolbars that help me quickly analyze key web metrics for any site I navigate to, and RockMelt has yet to offer these whistles and bells with the same ease-of-use.  I guess I should be happy that a browser this new does offer installation of any Chrome extension, but at the moment some don't work, and some don't work well.
I installed a popular extension called Chrome SEO, but in RockMelt it opens in an extended sidebar that is not wide enough to show me all the stats, so I have to scroll…annoying!  And the most basic extension, which is meant to show the Google PageRank of each site you visit, doesn't work at all.  They need work here.
Conclusion:  RockMelt Will Rock!
RockMelt represents a giant step in the evolution of intuitive web browsing… it's less about visiting a URL, and more about setting up your online presence so the stuff you would have navigated to in the first place is pushed to you in a clean and organized fashion, and in a way that allows you to interact with your network without constantly clicking around.
Their design is beautiful, and has only a few kinks, which is natural to expect, and which will probably be worked out soon.  I'll miss Chrome a bit, but like many things on the web, there's no loyalty, especially for things that are free, and make your life easier.
RockMelt also raises questions about the future of online business models, most of which require visitors to actually visit the site as a means of monetizing the traffic.  This type of integrated browsing serves the users at the expense of advertisers hoping to distract you with ads served to you at the destination page.
Even Google is probably re-thinking their approach… currently the narrow column of search results appearing on RockMelt do not have any ads alongside them.  It's hard to think this type of browsing will increase traffic for online advertisers… quite the opposite.
If you want an invitation to RockMelt as a current user I can pass along a few of them, so just send me a note at jim@boomient.com and I'll hook you up.
Ok
JM