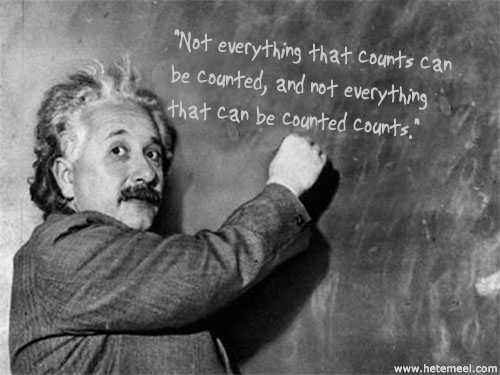 Calculating return on investment (ROI) is not unique to internet marketing, but the proliferation of available analytics data that provides insights into online behavior has created opportunities for data-driven decision-making that simply do not exist in other areas of marketing and communications.
Setting a budget for SEO is more difficult than it is for paid advertising, but it's no less possible, as you can track metrics around your SEO performance that enable standard ROI calculations.
There is no reason why SEO can't have its success or failure measured, as long as you can 1) add up the cost of your SEO resources and 2) quantify the value of a visit to your website.  With these two items, SEO can be calculated as a percentage of your revenue, and you can develop deeper and more useful metrics, such as:
cost per customer acquisition
cost per lead
cost per sale
profit per sale
Let's setup an example scenario in which a business can begin to measure ROI from their SEO.  Let's say you are a small business that has never done any SEO, but you do have analytics tracking on your website.  You may not even be aware of the depth of data you can get from Google Analytics, but it's possible to quite easily gather the following:
A list of the top 10 pages currently getting the most visits from non-paid Search over the past 6 months
Number of visits from non-paid Search for each of those pages, individually
Running historical average of overall site visits from non-paid Search over the past 6 months
Breakout of the referring search engine that brings those visits:  x visits from Google, y visits from Yahoo, etc
Bounce rate of each of the target pages (% of visitors that leave the site from the page at which they arrive)
A handful of keywords that have brought visitors to those pages (Google won't give you all this data, as many of the visits will be marked as "Not Provided", but you can still get a nice indicative bunch of keywords)
Depending the type of business you are in, you may also have conversion data that is calculable from the visits to those 10 target pages, and you can set a metric such as # of sales generated by visits to those pages, and profit per sale from the specific visits brought in by non-paid Search traffic.
Time to Hire an SEO!
Ok, so you've got some starter data, and you can set your "pre-SEO" benchmarks for your top pages, and for your site overall.  Then you hire an SEO consultant to conduct a site audit, do keyword research, and recommend the best optimization strategies for those 10 target pages.
If you have a smart SEO who knows what he or she is doing, they will give you an extremely focused plan based on solid research so that you can target specific keyword rankings, either to improve rankings you've already got, or to attain new rankings for keywords that were not bringing you any visits before.  You implement the plan by improving the content of your existing pages, or by creating new pages to target new keywords, and by building links and promoting your content through social media, PR, and other channels.
After 6 months, it's time to calculate your ROI from your SEO efforts.  All the costs that went into SEO consultant fees, web development, content production, linkbuilding, and content promotion go into your "investment" column.  Then look at your latest stats from the 10 pages in question, and any new pages created as part of the SEO effort.
Compute the change over the 6 months… Did you have a page ranked at #15 in Google that generated 100 visits per month, which now ranks at #4 and generates 250 visits per month?  Great!  Those new 150 visits per month go into your measurable returns column.  You get the idea.
You'll end up with an analysis that looks something like this.  These numbers are just examples, based on a sample site where 10% of site visits tend to generate a sale that brings an average of $25 in revenue:
SEO/ROI Analysis
| | |
| --- | --- |
| SEO Investment | Cost |
| Consulting fees to SEO company | $6,000 |
| Web development to optimize site | $1,500 |
| Cost of producing new content | $500 |
| Cost of linkbuilding efforts | $1,000 |
| Cost of YOUR internal time managing all this | $2,000 |
| TOTAL | $11,000 |
| | |
| --- | --- |
| SEO Measurable Returns (6 months) | Metric |
| Increased visits from search to top 10 target pages | 4,000 |
| New visits from search to site overall, above historical average | 1,500 |
| Sales generated from those increased visits | 550 |
| Revenue from those sales (# sales x $25) | $13,750 |
So in this example, the SEO campaign delivered success over 6 months that resulted in revenue that was $2,750 above the cost of doing the SEO.  So a basic ROI in revenue terms is 25%.  Not bad.
Amortization Adjustments to SEO ROI
But let's be fair… some of the above investment items should be amortized…after all, if you are doing social media marketing, and you're interacting with customers, promoting the site, answering questions, and building your brand's reputation, that volume of work has its own value outside of the benefit it drives towards higher search rankings.
This is where you have to make an assessment, either via creativity or simply gut-level intuition, but you can take a percentage of those costs out and assigning the rest to SEO work.  Let's say you credit only 75% of the investment costs to this particular calculation… You'll then get an ROI like this:
$13,750 – ($11,000 * 0.75) = $5,500.00
$5,500 / $8,250 = 66% ROI from SEO
This re-assignment of investment costs to other important areas such as brand equity, customer service, or increased social media presence are what start to create some fuzziness in the ROI calculation.
But there's typically only upside to this process… After all, the 6 month period as just the beginning.  Unlike paid advertising, your SEO success will have lasting power, even if you stop investing after the 6 months, because you will likely hold your new search engine rankings for a long time to come.
And, there is a rolling benefit that takes place on the web, where success breeds more success… New customers share their experience with their friends, recommending your site months later, causing more new traffic, etc.  Hard to measure, but difficult to discount entirely.
I started the example with the idea of looking at 10 target pages, because an identifiable group of pages that had specific SEO attention to them can serve as a test case for future SEO efforts.  After those pages increase their rankings, you can continue to add to their ROI calculation even years down the line… If they continue to maintain higher rankings and draw more traffic then your initial benchmark, you can keep revising your ROI calculation to be more favorable.
Don't Forget Referral Traffic
It's also important to recognize that the measurable part of SEO success also belies additional success that may not be as directly measurable.  If a page is doing better because some new links pointing to it have increase the influence and page authority of that page, and hence the Google/Bing/Yahoo ranking of that page, then there should also be regular referral traffic coming through to those pages from folks clicking on the links themselves, having discovered the linking page.
You can chase down those metrics as well by looking at your referral traffic from new links gained as part of your SEO effort, and add those visits to the column of visits gained via the linkbuilding part of your SEO campaign.
Deeper Metrics
With these figures, you can calculate other ROI factors like profit per sale, cost of new customer acquisition, and other metrics.  At this point, this is not even "web stuff"… this is just regular business ROI, but it's grounded in real and reliable data coming from comparing your benchmarks to the new site performance.
Conclusion
Doing return-on-investment calculation for SEO is a bit more challenging than other types of web efforts, but the reason has mostly to do with the presence of less measurable "bonus" benefits that you'll experience for years down the line.  These are difficult to capture, but only lend more rationale towards doing SEO in the first place. The fact is, you can develop ROI on your organic Search efforts, and use it to make near-term decisions regarding your site and how it's marketed.  Even a failed SEO effort can give you insights into the ways your site succeeds or fails on the web, and this info can be fed back into your overall marketing strategy.
Remember, paid advertising is great, but the benefits to your site drop off dramatically as soon as the investment stops.  SEO, by its nature, is a content strategy, and if it's done correctly, adds an "evergreen" factor to your site which can pay off in spades for a long, long time.
OK
JM
—
Jim Magary is the founder of Boomient Consulting, and is one of those ROI-obsessed "smart" SEOs so slyly referred to in the above article.  For more information on getting Boomient to help you measure your ROI for SEO or any other marketing efforts, contact us here.