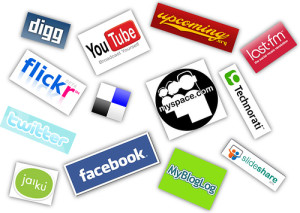 Many marketers have been dragged into social media marketing kicking and screaming. There's something a little disconcerting about wading into an area where you don't have control of the message, and where you rely on customers and strangers out on the web to set the tone for a conversation about your brand.
Since this may happen anyway without your presence, you might as well listen in at the very least, and then find ways to craft your brand identify within social media.
The importance of social media to marketing a business and maintaining a brand is not to be underestimated. Twitter, Facebook, YouTube, LinkedIN, and others are driving a large portion of business interactions, especially in the B2B space. Forrester Research* says that 77% of B2B technology decision-makers are active in social media, a figure that is not too surprising in a world where Facebook alone has 500 million users who are active every month.
Potential customers who may have turned immediately to search engines a few years ago and now quite likely to hit Twitter or LinkedIN to find a word-of-mouth recommendation from a contact or a contact's network.  The inherent credibility contained in these connections does a huge amount of pre-selling, bring your business customers who are already past the "why should I trust you" question, and ready to do business.
Here are some tips for handling your presence in Social Media, as a B2B marketer:
Listen first
Before diving in, do a search for your company or brand on Twitter, Facebook, and the other social media sites.  Some content may be restricted on some of these sites but you may find a public page discussing your company.  Use Google to do a search for your company name along with "Twitter" and "LinkedIN", etc, to see if there are any recent public documents indexed with your company.  At minimum you may find discussions taking place about your industry, which will give you insights as to how others are approaching the social media space.
Set a Google Alert for your company name (and while you're at it, key products or terms) so that you'll get an email every time new info is put on the web related to your company.
Setup Sharing
Make sure your site is optimized for visitors to share what they find.  Each page, article, or post should be followed with a "Tweet this" or "Share on Facebook" button so that users can quickly send the interesting item to everyone in their network.
Automate
You can also setup your site so that it's automatically posting new content or blog posts to a variety of social media sites.  You don't want to overdo this on every site… Facebook, for example, should not be a repository for every business message you can think of, and should be used more for sharing things from elsewhere on the web that are of interest to your FB network.  Twitter, on the other hand, lends itself more towards a continuous stream of posts, and their short length makes them unobtrusive, so set up your site to tweet automatically, AND to stream in relevant Tweets from elsewhere and feed to your own pages.
Take the Risk
In this modern digital age, there is no room for businesses trying to control every message and every comment going on with their business.  If you setup a stream of Tweets, for example, to show on your homepage anytime someone tweets about your business, you will get both good and bad comments about your brand.  Don't be afraid of a negative comment popping up on your page.  Two reasons for this:  1) if there are negative things to be said about your brand, they are already out there and people can easily find them, and 2) putting it on your own page shows confidence in your brand and respect for the audience, because you are not shying away from reality.  Customers will appreciate this and it will raise the credibility factor of your business in the long run.
Advertise
There are very targeted ad opportunities available from social network sites such as Facebook and LinkedIN, which can get your message in front of people targeted based on what they are discussing, who they are, things they might be searching for, and other behaviors they engage in when on the site.  This can bring you extremely targeted traffic from a huge and growing audience from these sites.
Even if you don't have full-time staff resources to run a blog, post to Twitter every day, or build networks for your brand within social sites, you can still scale your efforts according to your resource.  Setting up a basic PPC campaign with a limited budget, or creating an RSS feed for your site content are the type of "set it and forget it" methods that don't require a lot of upfront resource, and you'll at least be in the game.
Putting messages on social media should be a natural function anyway, and should not appear forced, so if you are a small business and you post every now and then, you'll make a small impression, but you'll at least be available to be found by those who put more credibility in these sites than anywhere else on the web.  That's worth doing.
*"The Social Technographics Of Business Buyers" report, 2009