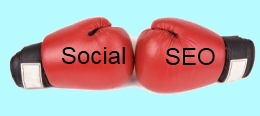 Those of us in the SEO blogging community have enjoyed a raging debate this week, sparked by a Gary Ardnt post about the merits of SEO as an investment vs Social Media.  He argues for Social Media as a better investment (of time, not money) towards achieving meaningful traffic on the web, by weighing the value of social networks against the relative difficulty of making an impact on organic search results.
Many professional SEOs came at Gary with cannons blazing, in a blogosphere tsunami that is unfortunately revealing a bit of insecurity in the SEO field these days (they doth protest too much, as Shakespeare might say).
My take is that the debate is lot of fun, but like many "this-is-better-than-that" debates, or "this-will-overtake-that-on-the-web" predictions, it's a bit pointless because it encourages the idea that the web isn't large or diverse enough to endlessly accommodate both tactics.
Or, at minimum, it assumes that either SEO or Social Media must "win" because they can only compete for resource without helping one another.
While it's true that a web marketing functionary must ration his or her time between the two (and between 100 other things you can do to get noticed on the web, like blogging), the best way to plan your resource for SEO or Social Media is to think about how their differences work together to maximize your target's online engagement.
So, what is Search for in the first place?
Generally, people perform searches for one of 3 reasons:
1) Navigation (just searching for Amazon so you can go there quickly)
2) Information (as in FREE info)
3) Transactional, or looking to buy stuff.  Each of these have "intent" as a common theme, as the searcher has a thing, often quite specific in mind, that they are using Search to bring to their screen.
What is Social for, by comparison?
One could argue that the intent of social media usage is to discover things, where you truly have no idea what they are until you find them.  There's still intent, but it's the opposite of purposeful intent… checking in with your friends to see what surprises they may have posted, tweeted, or ranted on the web…. or literally just wasting time, looking for a distraction to fill the void caused by a lack of any specific intent…  or just plain looking for something interesting to read, and being open to a bit from ANY source or category.
The implication of these definitions might indicate that, for marketers looking to sell stuff, Search would be the higher converting activity of the two, since the social media audience is not actively looking to buy, and is more likely to consider their social media activities as a non-commercial, daily life activity.  And it's true that SEO, properly conducted, can convert like crazy, by funneling the exact right folks with the exact right intent to the site that offers them exactly what they chose to look for in the first place.
But social media can add the hard-to-measure impact of branding to a marketing effort.  People exposed to a brand through a social media campaign are more likely to later search for that brand with an intent to purchase, so the credit for the conversion can be given to both efforts.  And with the search engines now including Tweets and other social media posts in their search results, it's clear that these two aspects of consumers' web activity work in tandem, not in competition, other than the fact that the web user can only execute on one type of intent at a time.
While SEO was a hot topic a few years ago, there's no doubt that social media is all the rage these days, so the danger is that many marketers will set aside SEO in pursuit of the more instant gratification that social media offers.
After all, posting a link to your site on Facebook is something you can do in a second, and it will bring at least some people to your site right away.  The rewards of SEO are more elusive, often less tangible, and certainly harder to explain to new clients, who may have a Twitter account, but have no idea what "backlinking" means.  SEO requires research, strategy, development work, and time-consuming link building (of the variety that is a lot harder than posting to FB and Twitter) to see it bear fruit.
The bottom line is that "long-tail" marketing on the web is the new standard, and that means that you are going to succeed best when you engage in a number of activities, all of which help each other build your footprint on the web.  Many tools, one giant toolbox.
Ok,
JM