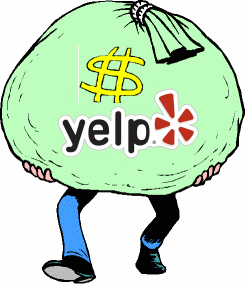 As a business owner I get a lot of emails and phone calls from people looking to help me advertise and promote my services.  As someone who is in the promotion and awareness business myself, I'm always curious to hear their pitch, especially for new web programs that are trying to filter targeted web users towards the right marketing messages.
A couple of weeks ago I got a call from a young and eager sales-newbie at Yelp.com, who tried feverishly to sell me on their new display advertising program, and the conversation reminded me just how new the web still is, and how little some folks understand basic media analysis.
If you don't know Yelp.com, they are truly one of the best local-search sites out there. Standing out among a throng of horrendous yellow-page clones and local directories, Yelp actually offers a pretty well-designed user experience, and attracts a devoted following of folks who enjoy reviewing restaurants and business in their communities.
Since Yelp tends to perform well in the search engines, thanks in part to SEOMoz who put them on the map, I make sure all of my small business clients setup their free Yelp listing, even if they are a national or global business, because it's a solid business directory with strong editorial credibility on the web.
My particular Yelp sales-newbie wanted to interest me in a program whereby I'd have access to all of the people in my town who use Yelp to search for things in my business category (web services and marketing).  She enthusiastically explained to me that there were about 700 people per month searching that category who live within 20 miles of me, and that I could show an ad for Boomient Consulting to them near the top of their search result page.
For a mere $500 per month, I would get all of this traffic, which would link right to my Yelp profile... yes, they were trying to sell me links to a page on their own website.
This hapless salesperson was fishing in too small of a pond to begin with, as even a quick glance at my site (or even my Yelp page) would have indicated that I am a national and global business, and my customers don't need to be located in my hometown.  I told her that she would have been better off trying to sell me the banner ad at the top of the page, currently occupied by Verizon, because I'm just as happy to market to the whole country as my local area.
But the true travesty, which I explained to her politely, was that she was trying to sell me a media buy that carried a $714 CPM (cost-per-thousand impressions), which is way more expensive than most web advertising, not to mention Prime Time network television.  I asked her why I would pay a price that was LITERALLY 26 times more expensive than an ad on the Super Bowl, and for an ad that doesn't even bring visitors to my own site.
The counter-arguments to my point, by the way, include a discussion of audience targeting capabilities, the differences between a narrow-target CPM and a general audience CPM, and the advantages of standing out from local competitors, none of which my Yelp sales-newbie seemed to have at hand, and which still don't justify the obscene CPM of this program.
Local Web:  Still an Ocean of Confusion
This example sits somewhere in the vast expanse of the marketplace where the modern, hyper-targeted web finds and devours the ancient local business practice of yellow page advertising.  Millions of small businesses used to budget thousands of dollars per year to be in the almighty yellow pages, and now the ones that can't do basic CPM math are being sold "bargain" local programs like this one from Yelp that claim the same benefits that the ol' finger-walking book used to provide.
But unlike the Yellow Pages of olden times, no site on the web has a monopoly on search in local communities.  Most people use a search engine like Google, but many use sites like Yelp or Judy's Book to find a local contractor or business.  The choices are many, the sites are mostly terrible, and the "advertising" or "SEO" programs are often downright shady.
You shouldn't have to spend thousands to be listed in local directories (most are free for a basic listing, in fact), and paid advertising on these sites can have CPMs under $1.00.
I'd love to work with some businesses in my town, so I'd like to get the attention of the 700 people looking for marketing and web services in my zip code.  But for the same $500 Yelp is trying to get from me, I can put an AdWords ad in front of thousands of people, and I can geo-target that ad to my zip code if I want to.
I'd pay by the click with Google, but at least I'd be bringing those clicks to my site based on targeted keywords, not a broad category search, and I wouldn't have to entice them through my lackluster Yelp page (which, by the way, would still have ads on it from other companies… you're welcome, Verizon!).
Even LinkedIN has a new advertising program where you can target people by job title or by company, and serve them ads paid for on an impression basis.  I did a test-run of their ad program and paid a CPM of about 70 cents.
So let's see… Yelp is charging a multiple of one thousand vs LinkedIN, for ads that don't even bring people to my site.  Yeah, I think I'll pass… and something tells me that Verizon is not paying $700 CPMs for their national banners at the top of Yelp.com, making this whole local Yelp offering seem even more predatory and slightly icky.
It frustrates me that local businesses are falling for these type of ad buys, and it saddens me that good web companies like Yelp are preying upon business folk who might be duped into thinking they need to pay through the nose to "claim" their place on the local listings in every way they can, and who, not unlike my Yelp sales-newbie, may not understand how to calculate a media CPM.
Worse still, some hapless businesses owners may see these programs as a bargain compared to what they used to pay annually to be in the yellow pages.  It may be years before they realize that the return on investment is nowhere near where it should be.
With any ad program, it's best to start an evaluation by doing a basic per-impression calculation:
COST/IMPRESSIONS times 1000 = MEDIA CPM.  
The cost of an impression is certainly not the only metric that you can use to evaluate media, and on the web it's not even the best one –cost-per-conversion or ROAS (return on ad spending) are much more useful if you can get to them — but CPM is a good place to start when looking at the price tag of anything that's going to drive traffic of an known quantity and an unknown quality.
Moral to the story… beware expensive local ad programs.  And keep a calculator handy!
OK
JM