High-Performance Business Websites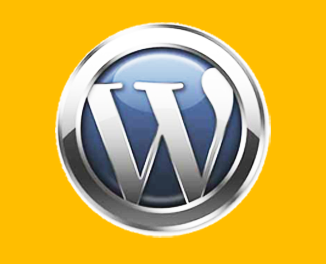 Boomient offers web development services on the WordPress platform.  That means we design and build you a custom website, and host it for you if you need it.
Or, if you just need help getting started with WordPress, we'll provide the setup and training to help you lift off on your own DIY project.
If you take advantage of our custom services, you'll have a customized, elegantly designed, and highly functional business website, with many options to self-manage it after we've made it live on the web.  See Pricing Options

Site Gallery (Our Work)
Here are some of our client sites which we are so proud to have created: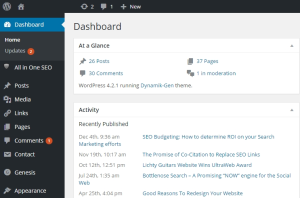 $150
We install, YOU build it
Perfect for DIY Content
1 Free Domain and Hosting setup
WordPress install + configure
Install important plugins
WordPress training guidance
SEO training help
100% ready for DIY content
2 months FREE Hosting*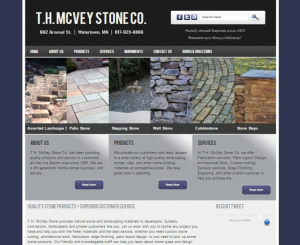 $1200
We Build and Host Your Business website
6 Main Site Pages plus a Blog
Fully Branded site on the domain of your choice
Contact Form, Company Email, Social Media linking/sharing
Install Google Analytics
Optional: eCommerce setup (shopping cart)
Phone Support and SEO Consulting
3 months FREE Hosting*

Free Domain + Hosting Setup
Customized WordPress Site
Content Services
Advanced Plugins/eCommerce
WordPress Training help
Social Media Integration
SEO Consulting/Training
Up to 6 months FREE Hosting*

WordPress Website Development
So you need to create a new business website or update an old site?  Maybe you just want a simple site, built quickly by someone else. Or maybe you want to work on the site yourself, but are hoping to take the technical pain out of setting it up.
Whatever your situation, we'll get you up and running quickly and easily. Let us do the work and get you where you'd like to be on the web.
We build sites using the WordPress publishing platform, one of the most popular and versatile web systems in the world.


Why Work With Boomient?
Get a brand new site easily
We'll upgrade or modify your existing site
You own your domain, you stay in control
Full admin access to Domain, Hosting, & WordPress
No ongoing commitments or contracts
WordPress is awesome! (used by over 50 million websites)
We'll handle the technical stuff
Get you 100% "open for business" on the web
WordPress and SEO training
Select your own website theme or let us recommend one
Sites can be fully customized
Reliable Hosting with HostGator – your site is in good hands
And, get up to 6 months FREE hosting* when you let us build your business website! 
Which Package is Right for You?
Quick Site Setup Package
This option is right for you if:  You want a website on your own domain, and you want to make it yourself using WordPress, but need help with the initial technical steps to get it running. You want someone else to get the site 100% working and functional from a tech standpoint so you can start inputting your own content through a user-friendly Dashboard interface.
If you already have your domain and/or a hosting account setup, that's ok… we'll pick up your project from whatever stage you are at and get you up and running on WordPress, with free tips and advice you need to start creating!
Cost:  $150
Quick Site Setup Package Includes:
1 Free Domain registration: We'll secure your website name, or place your new site on a domain you already own
Hosting account setup: HostGator webhosting with 3 months FREE hosting ($24 value)
Install WordPress: We'll make sure it's working with your domain so you are ready to write using the famously easy WordPress content management system
Install WordPress themes: We'll install a few choices, or install the theme you've already chosen, and show you how to add more themes
Install important WordPress plugins: Add instant security features and SEO advantages (
SEO Start-up Tutorial: Quickly learn the ABCs of SEO so you can get your site found in Google
Email setup:  If you need it, we'll setup yourname@yoursite.com email address of your choice
Basic WordPress help:  We'll give you an information sheet with everything you need to know about your accounts and useful WordPress links
Terms:
Sign up for our Webhosting services (3 months free, then basic package is $7.95/month, provided through HostGator, one of the largest and most reputable hosting companies).
If you already have a hosting account, we'll manage the transfer for you, or you can request to stay with your existing host (we'll help determine whether the installation will work on that host, and if it is you can stick with your current host)
Advance payment $150 via credit card, PayPal, or check required
No content or page creation:  You'll be setup to do that on your own!

Basic Business Site Package
This option is right for you if: You need a basic business web site on your own domain. It needs to have a few important pages and be well-branded for your business, but you don't expect a custom design.  You need a professional, modern, and stylish web presence to represent you, with informative text and images on several pages.  You need to show people what you sell or do, and encourage them to contact or visit you, or buy a product right from your site.  A professional site with typical pages and features in place, which can be expanded in the future.
Cost:  $1200
Examples of Basic Business Sites (click image to visit)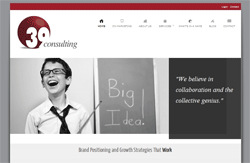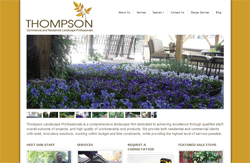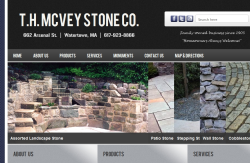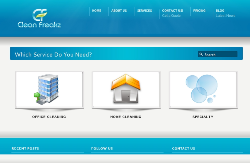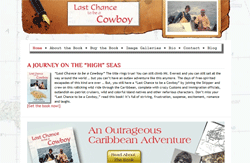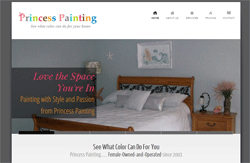 Our Basic Business Site Package includes everything you need for a 100% complete business website:
Customized WordPress Site:  We'll setup your company colors, logo, artwork, photos in a standard business site configuration
Create 6 Main Site Pages:  Home, About Us, Products/Services, Contact Us, etc with content and photos/images (we can name the pages however you like and use your content if you have it)
Hosting account setup: HostGator webhosting with 3 months FREE hosting ($24 value)
Setup Company Blog:  This is a great way for you to add content to your site regularly, and you'll find that blogging is as easy as writing an email.
Social Media Integration:  Link your site with icons for Facebook, Twitter, Google+, LinkedIN and others
Google Maps Integration:  Show a Google Map on the site to help people see where you are, with link for directions
Contact Form Setup:  We'll configure your contact form so visitors can email you right from the site, and even receive an automatic reply
Installation of e-commerce shopping cart: If you need it, we'll install a products/shopping cart setup and show you how to use it
Installation of Google Analytics:  Allows you to track your website traffic, get reports on how people are finding your site, and where they come from
Phone tutorial:  Free phone consulting to give you a guided tour of your new site, answer any of your questions, and show you how to edit your site content on your own
Free SEO advice and on-site optimization: We "bake in" good SEO attributes as we build the site, to maximize your opportunity to be found in Google and other search engines.
Terms:
Sign up for our Webhosting services (3 months FREE, then basic package is $7.95/month, provided through HostGator)
If you already have a hosting account, we'll manage the transfer for you, or you can request to stay with your existing host (we'll need to look at the current setup on your hosting account and if it meets certain usability requirements, you can stick with your current host)
Down payment of 50% ($600) required via credit card, PayPal, or check
Content services are limited:  We'll setup and complete your pages with text and images so the site is "open for business", but we cannot do ongoing revisions unless you extend the contract (project fee arranged for custom work)
Customizations are limited: With this package we will work with you to select a theme suitable for your business, and set it up to include your logo, images, any text you want, full contact info, and other basic content, but custom changes (CSS, templates, custom layouts, etc) would be extra.

Custom Business Site
This option is for you if:  You want someone to build you a custom website, where you can request specific features, colors, design options, and communicate back-and-forth with a developer to get to your ideal website. You've got a bunch of specific ideas in mind for the site and you know it will take some work with a developer to get there.
Examples of Our Custom Business Websites (click images to visit)
What's Included:  Custom web development will be different for everyone, because it depends on your particular needs.  We will consult with you at no charge to determine your requirements and submit a formal proposal for your web development project.
Suffice it to say that you'll get everything in the two packages shown above and a lot more, specific to what you have in mind for your website. Personalized service, great communication, and attention to detail are a point of pride for our team. We are both web experts AND marketing experts, so we have a keen sense of what it takes to make an SEO-optimized, customer-focused website experience that helps you sell.
Custom development projects in excess of $2000 will qualify for 6 months of free web hosting* (3 free months for projects under $1000).
More About Web Hosting
Why Do I Need Hosting?
Every web site needs web hosting if it's going to be live on the internet. Web pages need to be stored on a web server so that they can be accessed 24/7 by anyone who visits your web address. Typically business don't have their own web servers, but instead they rent space from a webhost who charges by the month for service and support. After you register a domain name, it has to be "pointed" to the webhost so that a visitor trying to access the web address will be shown the pages that have been placed on the webhost.
When you sign up for one of our website packages, we will setup your hosting account for you, point the domain, and get everything functioning properly. We can also work with your existing webhost if you already have one (custom website services only). You won't have to know anything about web servers or mess around with things like FTP accounts or htaccess files… we will set you up and get you ready to go.
*Our minimum hosting package includes 5000MB of disk space and 2GB in monthly bandwidth per account (FYI this is way more than enough for a typical business site; most only use a fraction of these limits). More space/bandwidth is available upon request.

Reliable HostGator Web Hosting
We are an authorized hosting provider through HostGator, one of the largest and most reliable hosting companies on the web, so your site will be in very good hands. Read why HostGator is great.
Affordable Web Development + Excellent Client Service