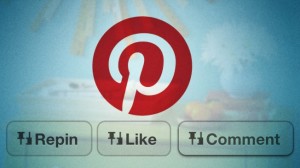 Ok, so Pinterest is the hot thing right now in social media, we know that.  I can barely read an industry blog or news story without hearing about it.
There's tons of advice developing about the best way to leverage the site, and much of that will change and evolve as we all figure out how people are really going to use this new social network.
After all, the web is a living, breathing, wild beast, and sometimes new websites, even social networks, succeed in spite of their own strategies, by virtue of people using them differently than their founders intended.
Social Media Surprise
Recall that Mark Zuckerberg was a bit suprised by the extent to which people wanted to post pictures on Facebook, vs how he originally envisioned the site.  This prompted FB to expand and improve the photo posting and tagging functionality of that site (and, no doubt, increase their server space), to accommodate the massive interest in that particular type of sharing.
And recall that Twitter never invented the #hashtag on their own.  No one knows who did, although many claim credit, but it's clear that the Twitter-verse grew its use organically, as early adopters discovered that they needed a way to tag keywords to create more focused ways of searching the site and following trending content.  Twitter responded and quickly made changes to encourage the use of hashtags, which are now central to the Tweeting experience.
So now we have Pinterest, where you can quickly find 100 different chocolate-chip cookie recipes, or 100 different pairs of Jimmy Choos, or 18 different pictures of David Bowie to post on your "Fave Artists" board.  The fervor surrounding this site reminds me of 2007 and 2008 when Twitter really took off to the mainstream, and brands scurried to figure out how to leverage the platform for their own purposes.
Companies and brands are already all over Pinterest, and right now there's a bit of a land-grab going on.  People are following just to get re-followed, and pinning and "liking" everything in sight, just in hopes of getting a followback.  I pinned my client's booking agency site today, only to see that someone named "Victoria's Secret" went and "liked' it, which makes no sense at all, but goes to show that some over-caffeinated social media marketing intern right now is at her desk, tasked with grabbing attention anywhere they can get it by pinning like mad (**Update:  the Victoria's Secret page that liked my post has since been removed, either because it was not the real VS or because Pinterest doesn't want pure brand pages**).
Of course this behavior is par for the course on all other social media, but the speed and excitement with which it's happening right now on Pinterest is pretty amazing, and makes it worth getting on board (yes, a pun, sue me) soon to establish a beachhead.
How to Use Pinterest for Your Brand… at least for now
Pinterest strategy will certainly evolve as we learn exactly how all these millions of new users actually behave on the site, and how they regard and reshare promotional content.  If you have a brand to promote, and if you also have the benefit of being a human person, then here's some quick tips you can do to get started right away:
1.  Join Pinterest Twice:  Setup an account in your own name, and another one as your company name… in general, it's always a good idea to lock up your Brand's username on a new social site, even if you're not going to use it, just to keep it away from others.  You'll have to request an invite but at the moment it's not hard to get it.
2.  Link Accounts:  I linked my personal account to my Facebook account, and my business account to my Twitter.  This gives me some freedom to be a little sillier with the posts I make on the personal account, since they will re-post to Facebook.
3.  Setup Boards:  Create a few boards, and re-pin a bunch of things from other people… you don't want to just self-promote at first, and you need to get activity going so that people see who you are and follow you back.
4.  Share Fun and Crazy Stuff: Pinterest is all about photos and interesting images, so you have to have something on the page worth sharing visually.  If the site you want to promote doesn't have good photos, add them first, and make as much "Pinbait" (yes, clear attempt to coin a phrase… sue me as long as you link to me ;-)) as you can.   The interesting thing that seems to separate Pinterest right now is the simple accumulation of linked content that occurs without people actually visiting the links, or being aware of the page they are even on… I have re-pinned recipes that I plan to check out later, but have not visited the page they're on, and may never, but there they are, on my board.
5.  Last, start following people widely, by re-pinning their content, and following their pins, and liking their content… most people will follow back and that will expose them to your pins and get them in front of the photos that you've included from the site.
We'll have to see where this goes… Pinterest may have finally cracked the code of how to make a mainstrem social bookmarking site that people actually use as a resource, rather than a collection of links that never get revisited or shared.  There's tons of social bookmarking sites, but let's face it, there haven't been any good ones.  Pinterest may be that one.
Effects on SEO are uncertain (the links are no-follow), but if there's a multiplying effect to be had from posting your own quality content, then there's real traffic to be had, and that's the type of think that generates links later, as people discover, read, and re-share what you have to offer.
All Aboard!
OK
JM